(The English text can be found immediately below the Portuguese text)
10 Fevereiro 2012
February 10, 2012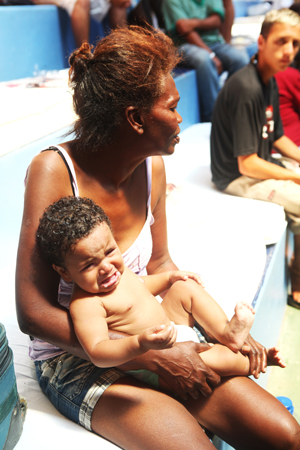 ameaçados para se retirarem de abrigo da própria
prefeitura.
---
Dando continuidade ao plano fascista contra pobres em São José dos Campos (SP), a prefeitura do PSDB de Eduardo Cury deu início à desocupação dos alojamentos na madrugada desta quinta-feira,
A Guarda Civil, acompanhada por representantes da Prefeitura, chegou à 1h da manhã no abrigo da escola CAIC com ônibus para levar os moradores. A alegação foi que os sem-teto tinham de sair
porque as aulas começariam na segunda-feira. A guarda intimidou os moradores dizendo que a Tropa de Choque chegaria pela manhã para tirar à força quem não saísse "pacificamente" naquele mesmo instante. Com medo, algumas famílias entraram nos ônibus da prefeitura mesmo sem saber para onde seriam levadas.
As famílias que resistiram estão saindo de forma organizada, levadas pelos coordenadores do movimento aos abrigos Vale do Sol e Centro Poliesportivo, que é coordenado pelo movimento. Assim, os sem-teto não se dispersam e podem continuar sua luta por moradia unidos e mais fortes."Essa prefeitura não tem sensibilidade nenhuma. Acordar uma criança a 1h da manhã, dizendo que
ela tem que ir de um lugar a outro, pode isso?"
, disse Toninho Ferreira, advogado dos sem-teto. Para ele, essa ação é mais uma demonstração de que não houve preocupação alguma com as pessoas quando se fez o despejo violento do Pinheirinho."Fizeram isso com os judeus em 45", afirma.
As famílias que saíram foram levadas ao alojamento do Latão, que, segundo informes dos moradores e dos coordenadores do movimento, é o que está em piores condições de sobrevivência. "Nós estamos trabalhando intensamente par tirar as pessoas de lá, aquilo não dá", informou Toninho.
As condições nos abrigos estão cada vez mais insuportáveis. Há muitas crianças, idosos e doentes. As mães reclamam que não conseguem matricular os filhos nas escolas e têm dificuldades para serem atendidas no posto médico do bairro. A alimentação é insuficiente e a prefeitura chegou até a entregar comida estragada na semana passada.
Apesar de estarem pegando a bolsa-aluguel de R$ 500, os sem-teto não estão conseguindo alugar imóveis. Além de não encontrarem casas por esse valor, eles não têm fiador e muitos não têm sequer
documentos, pois foram destruídos pela polícia junto com suas residências. Muitos alegam, ainda, que estão sofrendo preconceito. Uma moradora de um bairro da região contou que uma vizinha a
procurou para assinar um abaixo-assinado contra uma família do Pinheirinho que alugara uma casa na sua rua. Ela discutiu com a mulher e se negou a assinar.
A batalha dos sem-teto, agora, é pela retomada do terreno do Pinheirinho. Eles estão exigindo da presidente Dilma que desaproprie a área. "O movimento não acabou", disse Toninho. No dia 3 de março, haverá uma festa para comemorar os oito anos da Ocupação Pinheirinho, que se deu no dia 26 de fevereiro de 2004. Vários artistas já confirmaram presença.
Com informações do site do PSTU.
Language Ferina - [Luciana Candido] Residents were
threatened to withdraw from their shelter by City Hall.
Continuing the fascist plan against the poor in Sao Jose dos Campos (SP), the city's PSDB Eduardo Cury started the eviction of Pinheirinho early on Thursday, November 9.
The Civil Guard, accompanied by representatives of City, arrived at 1 am in the shelter of the school bus to remove the residents.
The allegation was that the homeless had to leave because classes begin on Monday. The guard intimidated the residents by saying that the Shock Troops (Military Police) will arrive in the morning
to take by force those who not to leave "peacefully" at that very moment. In fear, some families boarded the buses to City Hall without knowing where they would be taken.
Families that resisted are doing so in an organized manner, led by coordinators to move to shelters at the Sun Valley Center Poliesportivo, which is coordinated by the movement. Thus, the homeless do not disperse and continue their struggle for housing united and stronger.
"This mayor has no sensitivity. Waking a child to 1 am, saying that she has to go from one place to another? " said Tom Ferreira, a lawyer for the homeless. For him, this action is a further
demonstration that there was some concern with people when they carried out the violent eviction of Pinheirinho. "They did this with the Jews in 45, "he says.
Families who left were taken to the brass housing, which, according to reports from residents and the coordinators of the movement, are worse living conditions. "We are working intensively alongside people out there" said Tom.
The conditions in the shelters are becoming increasingly unbearable. There are many children, elderly and sick. Mothers complain that they cannot enroll their children in school and have
difficulties getting medical attention in the local neighbourhood clinics. The available power supply is insufficient and the Mayor came to deliver food that had gone bad last week.
Although they are receiving rent funds of $ 500, the homeless are not able to accommodations for rent. Besides not being able to find accommodations for that price, they do not have a guarantor and many do not even have documents because they were destroyed by the police along with their homes. Many argue, though, that they are suffering from prejudice. A resident of a neighborhood in the region said that a neighbor sought to sign a petition against a family from Pinheirinho that rented a house on their street. She argued with his wife and refused to sign.
The battle of the homeless, is now resuming in Pinheirinho. They are demanding that President Dilma expropriates the area. "The movement is not over," said Tom. On March 3, there will be a partyto celebrate the eight years of the occupation of Pinheirinho, which began on February 26, 2004. Several artists have already confirmed their presence.
With information from the site PSTU.