By Rodrigo Nunes
Originally posted by the Guardian at
https://apps.facebook.com/theguardian/commentisfree/cifamerica/2012/jan/24/brazil-pinheirinho-eviction-inspiration?fb_source=other_multiline&fb_action_types=news.reads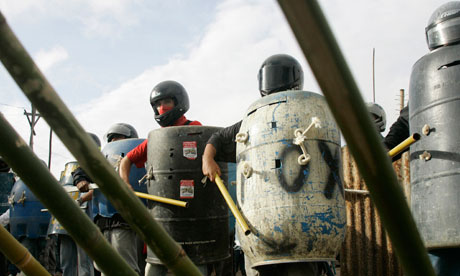 Pinheirinho has been squatted for eight years, with no government effort to regularise the area or develop an adequate infrastructure. Home to roughly 6,000 people, the land belongs to a notorious financial market fraudster arrested in 2008. Spurred by Brazil's property development boom, the local administration has recently become active in pursuing the eviction, aided and abetted by judges who seemed to wish to make that happen as quickly as possible.
On Sunday, social networks were buzzing with reports of war-like scenes and tales of brutality, including a media ban and mobile phone block in the area and the rumoured detention of a federal representative and a senator who attempted to intervene (they later clarified they were not detained, but trying to negotiate). As many as seven deaths have been reported, including a baby, though none officially confirmed yet.
In places like Iran and Egypt, social media has functioned as a tool against state control of information. In Brazil, it has helped bypass a monolithic private media sector, which is under-regulated and highly concentrated (90% of the industry is in the hands of 15 families). As other means of producing and circulating information became more readily available and a so-called "progressive blogosphere" developed, the country's corporate media, which gave space for the most aggressive opposition to the Lula and Rousseff administrations, began to lose credibility. The alternative outlets were vociferous in their condemnation of the São Paulo state government last Sunday, and rightly so. But elsewhere on the political left there are hints of double standards.
Many on the left have found it hard to articulate a critique of those processes when they are not carried out by the political right. There are stirrings that suggest this may be changing, such as recent campaigns against Petrobrás (state oil company), Vale do Rio Doce (mining) and the building of the Belo Monte hydroelectric plant. They are small signs, so far still somewhat isolated, but it might be the start of something. If so, Pinheirinho could prove itself to be a lesson, an indictment and an inspiration.