Originally published by Survival for Tribal Peoples (Survival International) at
http://www.survivalinternational.org/news/8534
Postado originalmente por Survival for Tribal Peoples (Survival International) em
http://www.survivalinternational.org/news/8534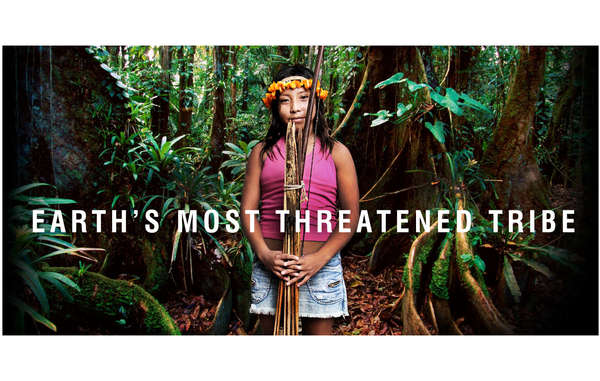 The lives of Earth's most threatened tribe will be in immediate danger if Vale's new project succeeds.
Plans by a giant mining company to expand a controversial railway line that has already opened up parts of Brazil's Amazon to invaders, are now putting

Earth's most threatened tribe

in direct danger.
Brazilian company Vale owns the world's largest iron ore mine, transporting its lucrative resources from the Amazon to the Atlantic Ocean in 2 km-long trains.
Now it wants to expand this stretch of railway line to allow some of the longest trains in the world to run simultaneously in both directions, to increase capacity.
As vidas de tribos mais ameaçadas da Terra estará em perigo imediato se novo projeto da Vale consegue.
Os planos de uma empresa gigante da mineração para expandir uma linha ferroviária controversa que já abriu partes da Amazônia do Brasil de invasores, agora estão colocando tribo mais ameaçados da Terra em perigo direto.
Vale empresa brasileira possui mina a maior do mundo de minério de ferro, o transporte de seus recursos lucrativos da Amazônia até o Oceano Atlântico, cerca de 2 km de comprimento trens.
Agora, quer expandir este trecho da linha férrea para permitir que alguns dos maiores trens do mundo a executar simultaneamente em ambas as direções, para aumentar a capacidade.
One of the world's longest trains passes Awá land. Mining giant Vale wants to expand the tracks so trains can run simultaneously. © Survival
/ Um dos maiores trens do mundo passa Awá terra. A mineradora Vale quer ampliar as faixas para que os trens podem ser executados simultaneamente. © Survival
But the forest homes of Earth's most threatened tribe, Brazil's Awá, border the railway tracks, putting the tribe,

especially those uncontacted

, in immediate danger.
The Awá are against the project. They say it will increase the amount of noise from the railway, scare away the game they need to survive, and increase the number of

invaders in their forest

.
Mas as casas florestais da tribo mais ameaçados da Terra, Awá do Brasil, margeiam as vias férreas, colocando a tribo, especialmente os isolados, em perigo imediato.
Os Awá são contra o projeto. Eles dizem que vai aumentar a quantidade de ruído da estrada de ferro, espantar o jogo que eles precisam para sobreviver, e aumentar o número de invasores em sua floresta.
Notório Vale do Carajás meu e ferroviária devastou a tribo Awá no início de 1980, abrindo suas terras até os colonos, fazendeiros e madeireiros.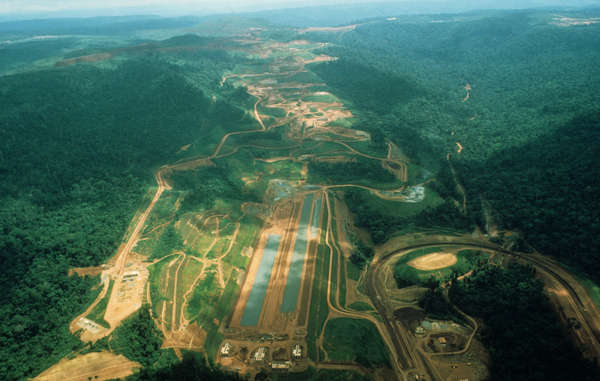 Brazil's Carajás project devastated the Awá tribe in the early 1980s. / Carajás Brasil do projeto devastou a tribo Awá no início de 1980.
© Peter Frey/Survival
However, despite this legacy and recent objections to Vale's expansion plans, the Awá have not been consulted properly. Vale has instead assumed the railway's inevitability and offered the tribe compensation.
This decision breaks Brazilian and international law, which require companies to consult indigenous communities before beginning such works.
Last December Vale workers set up a camp outside the Awá territory, despite not being granted an installation license to work in the area.
Survival's Director Stephen Corry said today,

'World Bank and European Union funding

for the Carajás project led to the massive destruction of the Awá's forest. Now only 30 years on, despite a functioning railway line already existing, this senseless expansion is putting yet more pressure on the tribe and their dwindling forest.'
No entanto, apesar desse legado e objeções recentes planos de expansão da Vale, a Awá não foram consultados adequadamente. Vale tem lugar assumiu inevitabilidade da ferrovia e ofereceu a compensação tribo.
Esta decisão quebra a lei brasileira e internacional, que exigem que as empresas consultar as comunidades indígenas antes de iniciar essas obras.
Última trabalhadores de Dezembro de Vale montaram um acampamento fora do território Awá, apesar de não ser concedida uma licença de instalação para trabalhar na área.
Diretor da Survival Stephen Corry, disse hoje, 'o Banco Mundial eo financiamento da União Europeia para o projeto Carajás levou à destruição maciça de florestas da AWA. Agora apenas 30 anos, apesar de uma linha ferroviária de funcionamento já existente, essa expansão sem sentido está pressionando ainda mais sobre a tribo e sua floresta em extinção. "
Note to Editors/Nota aos Editores:
Vale expects work to be complete by the end of 2016. If approved, it will allow 230 million tons of iron ore to be transported each year; 100 million more than is currently possible.
Vale espera trabalhar para ser concluídas até o final de 2016. Se aprovado, permitirá que 230 milhões de toneladas de minério de ferro a ser transportado a cada ano, 100 milhões a mais do que é actualmente possível.
Cerca de 30 mil pessoas já apoiaram a campanha da Survival para salvar tribo mais ameaçados da Terra desde que foi lançado em abril.