Originally posted by itu.com.br at
http://www.itu.com.br/colunistas/artigo.asp?cod_conteudo=37675
Por Sandro Von Matter
By Sandro Von Matter
(The English translation follows immediately below the original Portuguese text)
Foto: ICMBio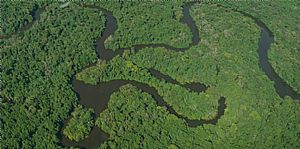 Floresta Nacional de Crepori, teve 856 hectares diminuídos para viabilizar a construção da usina de Jatobá.
Após a polêmica em torno da construção da
Usina Hidrelétrica de Belo Monte
, o Brasil está para assistir o início de um debate ainda maior em torno da instalação de ao menos outras cinco novas mega Usinas Hidrelétricas em plena Amazônia dentro de Unidades de Conservação (áreas ambientais legalmente protegidas) e de Reservas Indígenas.
Para tornar a construção destas usinas possíveis a Presidente Dilma Rousseff editou a Medida Provisória (MPV) nº 558 que por ter sido considerada
inconstitucional
pela Procuradoria Geral da República foi posteriormente
convertida pela Câmara dos Deputados no
Projeto de Lei de Conversão nº 12 de 2012
que foi agora em 29 de junho aprovado pelo Senado Federal, apenas sete dias após o término da Rio+20 (assistam o vídeo ao final do artigo).
O projeto de lei em questão altera significativamente o tamanho de nada menos que sete áreas protegidas na Amazônia, entre áreas dos Parques Nacionais da Amazônia, das Florestas Nacionais e de Áreas de Proteção Ambiental. O objetivo de tamanha alteração por parte do governo federal é tornar judicialmente possível a construção de barragens dentro de áreas que até então pertenciam a Unidades de Conservação, o que invibializaria legalmente o empreendimento.
A iniciativa, que assim como a construção de Belo Monte faz parte de uma série de medidas ligadas a implementação do
Plano Nacional de Mineração 2030 (PNM - 2030)
que inclui a construção de hidrelétricas para suprir a demanda por energia de Mineradoras, recebeu críticas por parte de representantes da sociedade civil, do poder judiciário, da comunidade científica internacional e até mesmo de funcionários federais responsáveis pela gestão das Unidades de Conservação Ambiental cujas áreas foram diminuídas.
A própria Procuradoria Geral da República já havia em fevereiro deste ano questionado judicialmente a Medida Provisória, segundo a qual a MP editada pela Presidente da República estava repleta de "inconstitucionalidade". Por este motivo foi apresentado ao Supremo Tribunal Federal uma
Ação Direta de Inconstitucionalidade com pedido de Medida Cautelar (ADI 4717)
. De acordo com o procurador-geral, todas essas Unidades de Conservação "são de extrema importância para a preservação do Bioma Amazônia".
Igualmente, mais de 30 organizações sociais e ambientais já haviam encaminhado uma
carta aberta
aos senadores, à presidente Dilma Rousseff e a autoridades do Judiciário e do Executivo, exigindo a anulação da Medida Provisória. Segundo as organizações que assinam a carta o principal intuito da redução das áreas das sete Unidades de Conservação (UCs) é justamente facilitar a construção de usinas hidrelétricas. A carta aponta que o governo brasileiro pretende excluir vastas áreas que compõe estas UCs para abrigar canteiros e reservatórios de grandes hidrelétricas, sem estudos técnicos e qualquer consulta às populações afetadas e à sociedade brasileira em geral.
Além disso os próprios funcionários federais Chefes das Unidades de Conservação que tiveram sua área alterada, pela aprovação do
Projeto de Lei de Conversão nº12
no Senado Federal, para viabilizar o complexo hidrelétrico de Tapajós divulgaram em conjunto com funcionários do Instituto Chico Mendes de Conservação da Biodiversidade - ICMBio (antigo IBAMA) uma
carta aberta
contra
as alterações feitas pelo recém aprovado . Segundo os Chefes das Unidades de Conservação não existem sequer estudos preliminares sobre a mudança do tamanho das unidades.
Abaxio está um trecho da
carta aberta
a população brasileira escrita
pelos gestores das Unidades de Conservação
que foram reduzidas e devem nos próximos anos ser atingidas pela construção de hidrelétricas:
"Entendemos que o atual processo de desafetação de unidades de conservação na bacia do Rio Tapajós, realizado sem nenhum estudo técnico preliminar, em áreas de significativa biodiversidade ainda desconhecida, a favor de um empreendimento que não comprovou minimamente a sua viabilidade técnica, econômica, social e ambiental, subverte gravemente as normas constitucionais de proteção ao patrimônio ambiental e os princípios fundamentais de gestão das unidades de conservação.
Acreditamos igualmente que a priorização de empreendimentos hidrelétricos frente à conservação da biodiversidade e ao modo de vida das populações tradicionais, utilizando-se da desafetação de áreas protegidas sem levar em conta critérios científicos e socioambientais, coloca em risco não apenas a integridade do mosaico de Unidades de Conservação gerenciado pelo ICMBio em Itaituba, mas a própria integridade do bioma amazônico."
O termo "desafetação" utilizado na carta, é um termo que vem sendo rotineiramente utilizado pelo governo federal e nada mais é do que a exclusão de vastas áreas de rios e florestas pertencentes a Unidades de Conservação Ambiental da área total destas unidades, para o governo para que uma área protegida não seja afetada pela construção de uma hidrelétrica basta aprovar uma lei e fazer com que ela deixe de ser protegida sendo assim desafetada. Assim como o termo "supressão de vegetação" atualmente também muito utilizado pelo governo que na prática significa desmatamento.
Segundo
Thiago Rangel
, ecólogo professor e pesquisador da Universidade Federal de Goiás (
revisor de um artigo publicado na Science sobre o impacto do desmatamento na Amazônia e a extinção de espécies na região
) "construções como a destas usinas são empreendimentos de grande impacto, represar o rio bloqueia a migração de peixes durante anos e certamente irá impactar a sobrevivência das espécies de uma região. É exatamente o que ocorre quando se desloca unidades de preservação para construir grandes barragens, há cerca de dois meses, a Câmara dos Deputados alterou cerca de oito unidades de preservação para poder liberar área para alagamento. Como pensar na preservação desses locais se eles não são feitos para serem permanentes?".
Para o
Observatório de Investimentos na Amazônia
, ligado ao Instituto de Estudos Socioeconômicos (INESC), já existem 30 usinas hidrelétricas planejadas ou em fase de construção na região. O Programa de Aceleração do Crescimento (PAC) prevê investimentos de R$ 94,1 bilhões nesses empreendimentos, dos quais R$ 67,3 bilhões estão atrelados a hidrelétricas em andamento os demais R$ 26,8 bilhões estão direcionados para novas usinas.
Dentre as novas usinas a mais cotada para ser construída primeiro será a Usina Hidrelétrica São Luiz do Tapajós, que poderá gerar uma inundação total de 1.368 quilômetros quadrados de floresta virgem, uma área quase do tamanho da cidade de São Paulo, equivalente a duas vezes e meia a inundação que será causada pela hidrelétrica de Belo Monte, em construção no rio Xingu, com o seríssimo agravante de que o local onde ficará a usina é cortado pelo maior mosaico de unidades de conservação da Amazônia.
A construção desta e outras hidrelétricas na bacia do Rio Tapajós já é considerada por especialistas e jornalistas como a principal polêmica ambiental nos próximos anos, ainda maior que a polêmica causda pela construção da Usina Hidrelétrica de Belo Monte.
Em entrevista para o
jornal Valor Econômico
a Chefe do Parque Nacional da Amazônia, Maria Lúcia Carvalho, denunciou que a decisão do Senado Federal aprovando uma lei para redução do tamanho das áreas de preservação ambiental do Parque causou enorme indignação para técnicos e analistas ambientais da região. "Estávamos trabalhando a mil por hora no plano de manejo do parque. De repente, fomos avisados que parte do parque simplesmente iria ser desafetada" (ou seja, deixaria de ser área protegida), "foram quatro anos de trabalho para nada. Recebemos esse banho de água gelada, e todo o trabalho realizado até aqui será perdido."
"A expectativa é que 90% das espécies de peixes sumam. Para mim, como técnica ambiental, é inegável a sensação de constrangimento ao ver o que querem fazer com o rio mais bonito da Amazônia", desabafa Maria Lucia. "Não há nada igual ao Tapajós. Se essas barragens saírem, será a morte do rio como ele existe hoje."


Vergonhosamente, o mundo assisti a um governo brasileiro que prioriza, a qualquer custo, empreendimentos hidrelétricos para beneficiar grandes empresas do setor de mineração frente à conservação da biodiversidade e ao modo de vida das populações indígenas. Belo Monte foi apenas a primeira de muitas e a Amazônia está prestes a perder milhares de hectares de florestas e se tornar um enorme pólo de mineração que deverá acelerar ainda mais os processos de destruição de uma das maiores florestas do mundo.
Marina carregou a bandeira ao lado de personalidades como o secretário-geral das Nações Unidas, Ban-Ki-Moon, o ex-pugilista americano, Mohammad Ali, o ex-fundista etíope, Haile Gebresselassie, o músico argentino, Daniel Barenboim fundador da West-Eastern Divan Orchestra, que reúne músicos palestinos e israelenses, a liberiana, Leymah Gbawee vencedora do Nobel da Paz em 2011, Shami Chakrabati diretora do Conselho Nacional das Liberdades do Reino Unido, e sua compatriota Sally Becker conhecida como o 'anjo de Mostar', que ajudou a evacuar vítimas de guerras na Bósnia e no Kosovo e o londrino Darren Lawrence. Enquanto isso a presidente do país sede das próximas olímpiadas se restringiu apenas a assistir o espetáculo.
Vídeo: Vanessa Grazziotin
Aprovação no senado das alterações nos limites de áreas de Parques Nacionais da Amazônia, de Florestas Nacionais e de Áreas de Proteção Ambiental.
Photo: ICMBio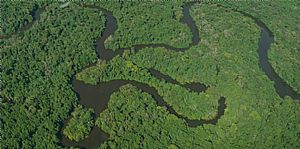 Crepori National Forest, decreased by 856 hectares to enable the construction of the Jatoba plant.
After the controversy surrounding the construction of the hydroelectric plant of Belo Monte, Brazil we are now witnessing the beginning of an even larger debate over the installation of at least five other new mega hydropower plants in the Amazon within Conservation Units (environmental areas legally protected) and Indigenous Reservations.
To make the construction of these plants possible President Rousseff issued Provisional Measure (MPV) No. 558, because it has been deemed unconstitutional by the Attorney General's Office was later converted into the House of Representatives the Bill for Conversion No. 12 of 2012, which was approved by the Senate on June 29th, only seven days after the Rio +20 (watch the video at the end of the article).
The bill in question significantly alters the size of no less than seven protected areas in the Amazon, between areas of the Amazon National Parks, National Forests and Environmental Protection Areas. The purpose of such amendment by the federal government is legally possible to make the construction of dams in areas that previously belonged to protected areas, which invibializaria legally the enterprise.
The initiative, as well as the construction of Belo Monte is part of a series of measures related to implementation of the National Mining 2030 (PNM - 2030) which includes the construction of dams to meet energy demand of miners, received criticism for part of civil society representatives, the judiciary, the international scientific community and even federal officials responsible for the management of Environmental Conservation Units whose areas were decreased.
The Attorney General's Office itself had in February this year questioned in court the Provisional Measure, under which the MP issued by the President of the Republic was full of "unconstitutional". For this reason it was presented to the Supreme Court a Direct Action of Unconstitutionality with a request for Injunctive Relief (ADI 4717). According to the attorney general, all these protected areas "are extremely important for the preservation of the Amazon Biome."
Also, more than 30 social and environmental organizations had already sent an open letter to senators, the President Rousseff authorities and the Judiciary and the Executive, demanding the annulment of the Provisional Measure. According to the organizations who signed the letter, the main purpose of reducing the areas of the seven protected areas (PAs) is precisely to facilitate the construction of hydroelectric plants. The letter points out that the government intends to exclude vast areas that make up these protected areas to shelter beds and reservoirs of large dams, without any technical studies and consultation with affected populations and the Brazilian society in general.
Besides their own federal employees, the heads of Conservation Units that took the area altered by the adoption of the Bill Conversion No. 12 in the Senate, to enable the hydroelectric complex Tapajós, which was released in conjunction with officials from the Chico Mendes Institute for Biodiversity Conservation - ICMBio (former IBAMA) issued an open letter against the amendments made by the newly approved bill. According to the Head of Protected Areas there are even preliminary studies on the change of unit size.
Below is an excerpt of the open letter written by the Brazilian population managers of protected areas that were reduced in the coming years and should be affected by dam construction:
"We believe that the current process of conservation in the Rio Tapajós, performed without any preliminary technical study in areas of significant biodiversity still unknown, in favor of a development that did not prove its minimally technical, economic, social and environmental, seriously undermines the constitutional protection of environmental heritage and the fundamental principles of management of protected areas.
We also believe that the prioritization of hydro over the conservation of biodiversity and the livelihoods of traditional peoples, using the protected areas without taking into account scientific, social and environmental criteria, not only jeopardizes the integrity of the mosaic of Units Conservation managed by ICMBio in Itaituba, but the very integrity of the Amazon biome. "
The term "desafetação" used in the letter (bloggers note: this term is omitted in the paragraph above but is part of the original text), is a term that has been routinely used by the federal government is nothing more than the exclusion of vast areas of rivers and forests owned by Environmental Conservation Units of the total area of ​​these units to the government for a protected area is not affected by the construction of a dam just pass a law and make it cease to be protected so desafetada. Like the term "remove vegetation" now also widely used by the government which in practice means deforestation.
But the efforts of the Brazilian Federal Government are not limited to create and change laws to enable the construction of projects within protected areas, the government currently has also performed a series of meetings with the purpose of regulating the Article 231 of the Federal Constitution, which provides the exploitation of water resources within Indian reservations. While the regulation does not occur, the government tries to advance in parallel. Last week, the Attorney General of the Union (AGU) issued a regulation to allow the government to make interventions in areas demarcated without the need to seek authorization from the local indigenous populations.
According to Thiago Rangel, environmentalist professor and researcher at the Federal University of Goiás (reviewer of a paper published in Science on the impact of Amazon deforestation and species extinction in the region) "constructions such as these plants are high-impact projects, damming the river blocks the migration of fish for years and will certainly impact the survival of species in a region. It is exactly what happens when you move units preservation for building large dams, there are about two months, the House of Representatives changed about eight units preservation in order to free up area for flooding. How to think about the preservation of these sites if they are not meant to be permanent? ".
The Centre for Investment in the Amazon, affiliated with the Institute for Socioeconomic Studies (INESC), there are 30 hydroelectric plants planned or under construction in the region. The Growth Acceleration Program (CAP) provides for investments of $ 94.1 billion in these projects, of which R $ 67.3 billion are linked to other ongoing hydroelectric R $ 26.8 billion is targeted for new plants.
Among the highest rated new plants to be built will be the first Hydroelectric São Luiz do Tapajós, which could generate a total flood 1,368 square kilometers of virgin forest, an area almost the size of the city of São Paulo, equivalent to twice and half the flood which is caused by the Belo Monte dam, under construction on the Xingu River, with the very serious aggravating factor that will be the place where the plant is cut by the largest mosaic of conservation units in Amazonia.
The construction of this and other dams in the Tapajós River basin is already considered by experts and journalists as a major environmental controversy in the coming years, even greater than the controversy causda the construction of the Belo Monte Hydroelectric Plant.
In an interview with the newspaper Valor Economico Head of the Amazon National Park, Maria Lucia Carvalho, said that the decision of the Senate passing a law to reduce the size of the areas of environmental preservation of the park caused enormous indignation to technical and environmental analysts in the region . "We were working a mile a minute in the management plan of the park. Suddenly, we were advised that part of the park would simply be desafetada "(ie, cease to be a protected area)," were four years of work for nothing. We got this ice-water bath, and all the work done so far will be lost. "
"The expectation is that 90% of fish species are gone. For me, such as environmental technology, there is an undeniable feeling of embarrassment at what they want to do with the most beautiful river in the Amazon ", says Maria Lucia. "There is nothing like the Tapajós. If these dams out, will be the death of the river as it exists today. "
Shamefully, the world watched a Brazilian government priority at any cost, hydroelectric projects to benefit large companies in the mining industry against the conservation of biodiversity and the livelihoods of indigenous peoples. Belo Monte was only the first of many and the Amazon is about to lose thousands of acres of forests and become a major center of mining which should further accelerate the process of destroying one of the largest forests in the world.
But the world is not blind, and will not wonder that the former environment minister who fought for environmental causes alongside Chico Mendes Silva, and not the current president Rousseff, was chosen by the IOC for honor of carrying the Olympic flag at the opening of the London Olympics. Altogether nine people who were honored according to the committee representing the Olympic values.
Marina carried the banner alongside figures such as Secretary General of the United Nations, Ban Ki-moon, former American boxer, Muhammad Ali, former Ethiopian distance runner Haile Gebresselassie, Argentine musician, Daniel Barenboim founded the West -Eastern Divan Orchestra, which brings together musicians Palestinians and Israelis, Liberia, Leymah Gbawee winner of the Nobel Peace Prize in 2011, Shami Chakrabati director of the National Council for Liberties in the UK, Sally Becker and his fellow known as the 'Angel of Mostar' , who helped evacuate victims of wars in Bosnia and Kosovo in London and Darren Lawrence. Meanwhile the president of the country hosting the next Olympics are restricted only to watch the spectacle.
Video: Vanessa Grazziotin
Senate approval of changes in the boundary of the Amazon National Parks, National Forests and Environmental Protection Areas. - video is in Portuguese